Order the Audiobook here:
SEK 90:- (which is about $10 or €11)
Order a printed copy here:
NOTE: Choose the payment button that corresponds to your location!
Shipment outside EU:
USD $29.00, includes tax and first class shipping
Shipment within EU:
EUR €25.00, includes first class shipping (no
tax within EU)
Shipment within Sweden:
SEK 235:- including tax and first class shipping
---
Copyright © Judith Bourque
The information you receive online from robesofsilkfeetofclay.com is protected by copyright laws in the United States, and other countries. The copyright laws prohibit any copying, redistributing, retransmitting or repurposing of any copyright protected material. The content, appearance and navigation of this page may not be copied or altered in any way.
Robes of Silk, Feet of Clay
The new, THIRD edition!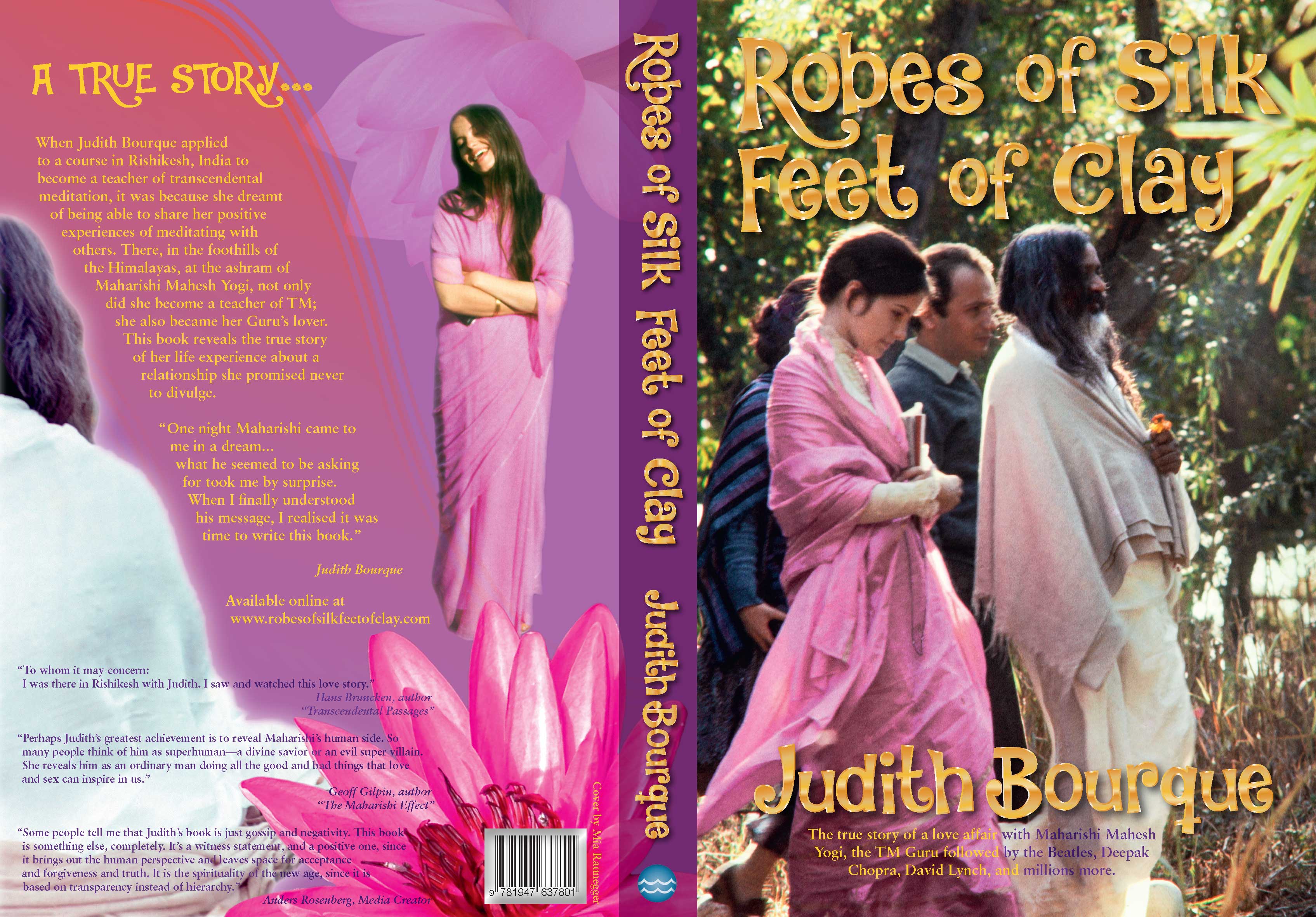 This is the official homepage for
the third edition of Robes of Silk, Feet of Clay,
the true story of
a love affair with Maharishi Mahesh Yogi,
the Indian Guru followed
by the Beatles, Deepak Chopra, David Lynch,
Clint Eastwood, Mike Love, Donovan, Mia Farrow, Cameron Diaz,
Jerry Seinfeld etc., as well as an estimated 6,000,000
other meditators around the world.
Maharishi was very successful in spreading his technique of
Transcendental Meditation, b
ut rumours that he was not the celibate monk he claimed to
be have been circulating for decades.
In this book Judith Bourque describes the unexpected love affair that developed with Maharishi when
she went to India as a young woman to become a teacher of Transcendental Meditation.
As of member of Maharishi's inner circle, she then traveled with him around the world for two years.
When she eventually discovered that he was also intimate with other young women she decided to leave him and
the TM movement forever. She also shares the methods and means that took her from fear and disillusionment back to
forgiveness and gratitude.
How is the third edition different from the first?
This edition has been polished and developed
. Judith answers the questions
many have written and asked: Did Maharishi have other lovers? Has she been in touch with them? How was Maharishi as a lover? Is it possible that
he has children? Has the TM movement attacked her? Three new chapters have
been written:
In the Mail
, about the positive feedback the book has received,
Returning to Rishikesh,
describing (with photos) an excursion back to Maharishi's ashram and Tat Wala Baba's caves in Rishikesh, and
There is No Santa Claus
, with comments directed to her critics. There are "new" photos from out of the past, and new photos period.
"One night Maharishi came to me in a dream...what he seemed to be asking for took me by surprise. When I finally understood his message, I realised it was time to write this book."
Judith
PLEASE USE THE PAYPAL ICONS ABOVE TO PLACE YOUR ORDER. IF YOU WOULD LIKE A SIGNED COPY, PUT YOUR REQUEST UNDER "INSTRUCTIONS" ON THE FORM. WRITE TO THE EMAIL ADRESS BELOW SHOULD YOU HAVE ANY QUESTIONS. PLEASE NOTE THAT THE PRICE INCLUDES YOUR COST FOR FIRST CLASS SHIPMENT.

www.robesofsilkfeetofclay.com

judithbourque@email.com
+46733012147
see Judith Bourque's other home page:
www.judithsalternativaterapier.se
Testimonials
"Some people think that your book is just gossip and negativity and don't understand the point of it. To that I usually reply that gossip is the spreading of questionable second hand information in order to shock and upset and entertain malice. Your book is something else, completely. It's a witness statement, and a positive one, since it brings out the human perspective and leaves space for acceptance and forgiveness and truth. It is a comfort and vindication for the abused and rejected. It is the spirituality of the new age, since it is based on transparency instead of hierarchy." - Anders Rosenberg, Media Creator

‎"Reading your book has had some very subtle liberating effect on me. Not dismissing "the knowledge" but recognizing the very human element of MMY that makes him even more endearing to me. It was like an advanced technique! I don't like that he deceived all of us and the possible psychological harm he created in some women he had affairs with. That was just plain irresponsible and unethical on his part. He should have done better. But I'll always value MMY for the understanding of the transcendent dimension he brought to my life and, more importantly, the transcendent experience his techniques and presence allowed." - Peter L. Sutphen, Psychologist
"Robes of Silk Feet of Clay is a very sensitive story, full of love. And yet it contains a truth that has to come out. This book lifts the blinders from our eyes so we can put Maharishi in the proper perspective, ie a human being like all others with the same needs for intimacy and warmth. And yet we are able to keep our respect for what he gave us: knowledge of meditation and transcendental consciousness. Thank you Judith for your concrete and trustworthy report from the inner circle of the TM organisation." - Conny Larsson, former TM teacher and author of Beatles, Maharishi och Jag (The Beatles, Maharishi and I), Norstedts